king djer facts
There are no contemporary sources about King Djer, but the Annals Stone tells he was the son of Hor-Aha and Khenthap (the fragment in question is called Cairo Fragment CF1, it is now at the Egyptian Museum in Cairo, and it may have been a part of the Palermo Stone.)
King Sety I's king list tells us he was called Iti, which may have been his birth name.

On the right is a picture of his name Iti on the Sety I king list. 

 He ruled for a long time – according to the historian Manetho he ruled for 57 years, using the name Athothis. The Palermo stone gives us 41 years.




Picture by Olaf Tausch at Wikimedia

Djer had his capital in Memphis, which his father Hor-Aha founded, but he did not stay there all the time. The Cairo stone mentions Djer smiting the land of Sedjet. Sedjet is usually taken to mean Western Asia, but it could be it means the Sinai here. Djer's tomb had many copper and turquoise artefacts, and Sinai is the area where ancient Egyptians traditionally obtained these materials.
An ivory tablet from Abydos tells of his visit to Sais and Buto in the Delta.

At Gebel Sheikh Suliman, (Abu Sir area near the second cataract) on the West Bank of the Nile, near the site of ancient Buhen (now under water) in Nubia or Wawat as the area was called them, there is a rock inscription of Djer. On the left is the serekh of Djer, in front of that is a prisoner with arms bound behind his back, holding a bow (which was the symbol of Nubia). There seems to be two symbols of towns in front of him. On the right is a boat, and there are four dead enemies floating in the water below it. One enemy has been tied to the prow of the boat with a rope around the neck and chest.
king djer's tomb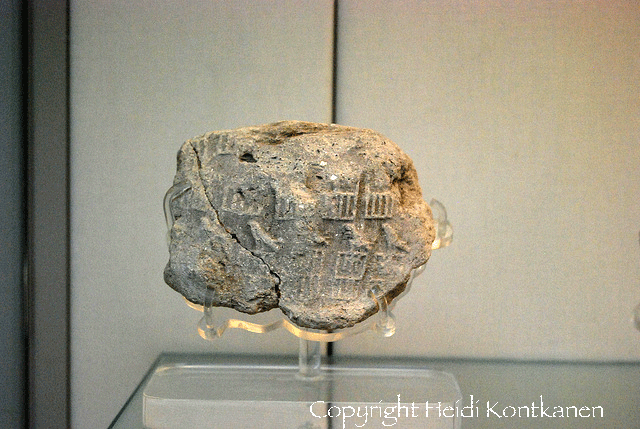 Clay seal impression with the name of king Djer. From the tomb of Djer 1st Dynasty, Umm el Qaab (Abydos) EA35523

Djer was buried right next to his father Hor-Aha at Umm el-Qa'ab in Abydos. His tomb is officially Tomb 0, also named the Great Tomb for it sheer size. The tomb was subterranean, and made of brick, with an earth mound over it. The size of the actual tomb is 21.5 x 20 m, but if you count the subsidiary burials, the size is 70 x 40m.  Djer followed in the footsteps of his father, and had courtiers join him in death. Most likely they were killed for this purpose – human sacrifice was practiced those days.
There is a label from Saqqara, dated to Djer's time, that could show this kind of sacrifice being performed. There is a man with his hands tied behind his back, which was the traditional way of showing the enemies of Egypt. It looks like the man in front of him has stabbed him to the front, and is holding a bowl which could be for the purpose of catching the blood.
There were 326 subsidiary burials around his tomb, and most of them were women. One of them was Ni-seret who had her name written in a stone stela. Djer's wife Herneith was buried in a separate tomb at Saqqara - the more important queens had tombs of their own, so maybe Herneith was his main wife.
But these were not all the subsidiary burials of King Djer - another 269 secondary burials were found at his great enclosure in Kom el-Sultan - and that makes the number of retainers killed to almost 600. 
If you are interested in reading more about Djer's tomb, there is an excellent article here.
DJER QUIZ
What do you remember of Djer, one of the earliest pharaohs of ancient Egypt? Take this quiz to find out.
1.    Djer's capital was in
2.    Djer's parents were
3.    Djer was known with a different name in King Sety I's king lists. Which name?
4.    How many subsidiary burials did Djer's tomb have?
dynasty 1
3000 - 2750 BC
Recommended reading:
Clayton, Peter A. (1994), Chronicle of the Pharaohs, the Reign-by-reign Record if the Rulers and Dynasties of Ancient Egypt, Thames & Hudson Ltd, London
Dodson, Aidan and Hilton, Dyan (2004) (paperback edition 2010), The Complete Royal Families of Ancient Egypt, Thames & Hudson Ltd, London
Tyldesley, Joyce (2006), Chronicle of the Queens of Egypt, Thames & Hudson, London 
Verner, Miroslav (2013), The Temple of the World - Sanctuaries, Cults and Mysteries of Ancient Egypt, The American University in Cairo Press, Cairo, New York
Back to Homepage from King Djer facts
Thank you Heidi Kontkanen for permission to use your photograph of the clay seal with Djer's impression.