ABOUT ME
My name is Leena Pekkalainen. I am one of those people who can never really answer the inevitable question why did I get interested in ancient Egypt. I just loved it, ever since childhood.
| | |
| --- | --- |
| I fulfilled my dream of studying Egyptology at the university level as an adult. Already when I started I had about a hundred books about Egyptology on my bookshelves. Now I have many more... | Under the Egyptian sun at the Luxor sphinx-avenue |
I studied Egyptology at the University of Manchester. First three years for the Certificate in Egyptology, which I received in 2012. And then, when the very first Diploma in Egyptology course started in 2012, I applied, and was accepted. I received the Diploma in July 2014.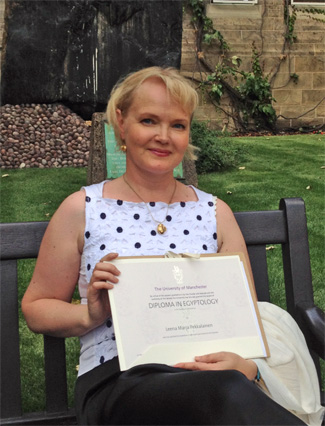 The Diploma, fresh from the press
It was hard work, and it was heaven... For five years I did not have much spare time, but I did not miss it. After all - what could be more interesting than learning about the whole history of ancient Egypt? The pharaohs, ordinary people, history, geography, medicine, warfare, technology, stories, hieroglyphs, foreign relations, everyday life... 
One thing was a bit surprising to me, though. Having read about ancient Egypt all my life I sort of supposed that everyone knew something about the subject. Well - not quite so. Most people I talked with were quite interested in Egyptology, but did not know much. Many thought slaves built the pyramids, that the right to rule ran through the royal women, that kings lived in a fixed stone palace, and all the royal ladies lived a life of luxury in what we call harems, that people used camels for transport. Just to mention a few very common ideas people had. (And this is not to say I did not have many similar false ideas myself before my studies...)
Also children absolutely loved the subject. And they wanted coloring pages, and other activities that had anything to do with ancient Egypt. Now, this site is not for children, as it handles many adult issues, but being an artist I will put up activities the adults can then get to the children in their lives, if they so choose. Parental supervision is a wise thing in today's internet world...
The idea of this site is to write short and easy-to-read pages about ancient Egypt. I won't make them too scientific - if you are interested in studying more, I will try to recommend books and websites for your further study. Academic text can make your eyes glaze over, if you aren't a researcher... They can do that even if you are! Which is a pity, really. I so want people to get interested in ancient Kemet. It was such a fascinating land... Or two lands, to be specific...
As for Mr Mummific - well, you can read about how he appeared one day by going to the home page. The cheeky little pharaoh sure has his opinions about anything Egypt, and I am not quite certain when he is making fun on me. But I have tried to gather the actual facts to one page , and Mr Mummific's versions to another. Thus, you can read the site as a Mummific novel, or as an Egyptological site based on facts.
If you get interested enough on the subject and would like to study it, you don't necessarily need to leave your home, and you can study when you have the time. The University of Manchester's distant learning courses are taught by professors, and the quality of the teaching is obviously of university level.
Lectures are recorded so you can watch them again and again, taking notes. (And you better take the notes, as the lectures are only there in the course, they won't appear on Youtube later, and you won't have access to them anymore once the study year is over)
Study materials are offered in the course, but you need to buy books too. You'll have 4-6 assignments per month on the Certificate and Diploma level, and you are expected to write several essays (don't worry - if you can write, you can do them, but you need to take the work seriously). You'll need to take part in study forums, and discuss ideas and theories there. 
And you will meet people who are just as crazy about ancient Egypt as you are… Online and in real life if you so choose. When I met Tilly and Hazel, two other Diploma students in London, we did the normal squeal-and-hug-procedure at the gates of the British Museum. And the next sentence after that was about ancient Egypt.
We went to a nearby restaurant and the poor waitress had to come back five (yes, five) times to ask for our order, because we had forgotten ourselves into a discussion about Tutankhamon's DNA. When we started noticing some odd looks from the people in nearby tables, we finally stopped talking about drilling thigh bones and taking samples of mummified tissues. Some of the people were already eyeing their plates with what looked like second thoughts...
So go ahead and read the pages. Check the links and books. And if you are interested in studying Egyptology, just take that first step.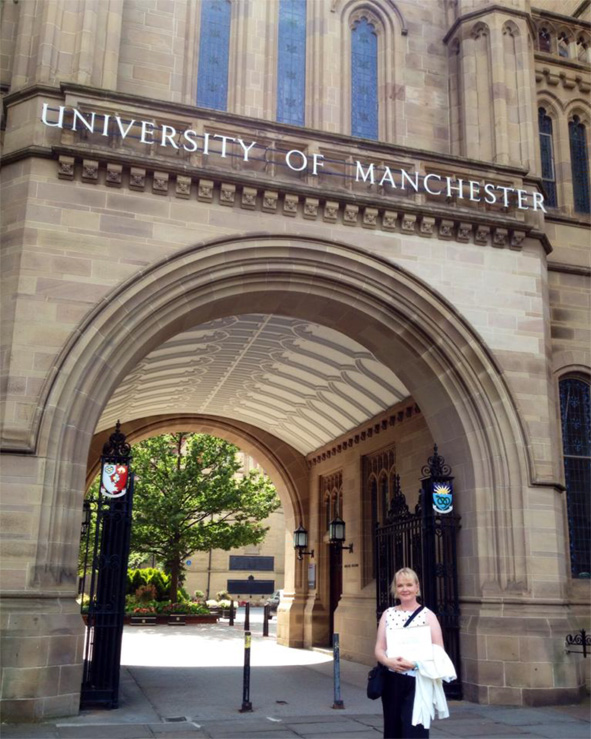 Gates to Egyptology